Seminar: New Pathways to Innovation & Commercialization
2:00 pm - 3:00 pm
103 Keller Hall, UH Mānoa or Zoom
Public
ABOUT EVENT
Register for the Seminar: https://go.hawaii.edu/ymk
Abstract:
The University of Hawai'i (UH) Office of Innovation & Commercialization (OIC) bridges UH and the community by building partnerships and opportunities around transformative innovation and entrepreneurship. OIC manages, protects, commercializes and markets UH intellectual property (IP) and technology assets developed across its 10 campuses statewide. In today's seminar, an overview of OIC will be discussed, including new programs to support innovation and entrepreneurship training to accelerate the advancement of technologies developed at UH, as well as opportunities to engage in potential industry-academia research collaborations with NEC, a newly formed strategic partner. NEC's internationally recognized data science and systems research spans areas from time series mining, graph mining, deep learning, text mining, anomaly detection, signal processing, cloud computing, data centers, software-defined networking, and streaming processing. Having successfully built analytic engines and system solutions to process and analyze big data and support various applications in detection, prediction and optimization, NEC is currently interested in elucidating the dynamics of big data from complex systems, retrieving patterns to profile them, and developing innovative solutions to help the end user managing those systems.
Speakers Biographies:
Rebecca H. Chung, PhD currently serves as a Technology Licensing Officer and
Associate Director of Innovation Programs at the UH Office of Innovation &
Commercialization. Managing the UH intellectual property portfolio, she translates UH research discoveries into commercializable opportunities and is developing experiential educational training programs to increase the capacity of innovation and accelerate the development of technologies developed at the University of Hawaii. Rebecca received her PhD in Biomedical Engineering with a focus on Innovation & Entrepreneurship from Stevens Institute of Technology, where she focused on orthopaedic medical device design, supported by the institution's Office of Innovation & Entrepreneurship and the National Science Foundation. More recently, she completed her NIH NRSA Postdoctoral Fellowship in the Department of Orthopaedic Surgery at the University of Pennsylvania, where her research contributions to advancing the musculoskeletal field have been recognized nationally and internationally by the National Institute of Health, Orthopaedic Research Society, and Orthoregeneration Network. Leveraging her background and interests, Rebecca aims to continue shaping the UH academic research environment to enable both innovation and impact to thrive.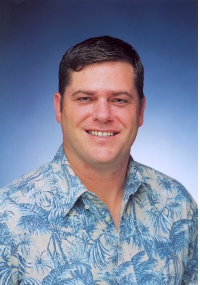 Bart Beavers is the Business Development Manager for NEC in Hawaii, an industry-leading provider of Communications Technology, AI Analytics, Digital ID, and integrator of IT solutions. In this role Mr. Beavers is responsible for development of NEC solutions in Hawaii that encompass NEC's portfolio of companies including NEC of America, NEC Labs of America, NEC-X, and NEC Global.
Mr. Beavers has more than 25 of technology experience in sales, marketing, management, product development, and program capture. Prior to NEC, Mr. Beavers was with World Wide Technology leading the a $200M IT deployment in the State of Hawaii before moving to a Business Development/Program Capture role targeting large IT programs across the United States. With Ion Systems, (Berkeley, CA) Mr. Beavers led the new electrostatics solution development for technology manufacturing markets including semiconductor foundry and TAP, flat panel displays, storage devices and contract manufacturing globally.
EVENT SPEAKERS