UH leads cyberinfrastructure research, education collaboration
A national collaboration led by the University of Hawaiʻi aims to enhance cyberinfrastructure (CI) access and capabilities for scientific research and education. A National Science Foundation (NSF) supported workshop will be hosted by UH, Montana State University and the University of Nevada, Reno to assess CI capacity and readiness across NSF Established Program to Stimulate Competitive Research (EPSCoR) jurisdictions and institutions.
"A goal of EPSCoR is to catalyze research capabilities across and among its jurisdictions. An important way to reach this goal is through intentional investment in cyberinfrastructure. This workshop provides a way to assess the current state of CI nationally and beyond," said principal investigator and UH Director of Cyberinfrastructure Gwen Jacobs.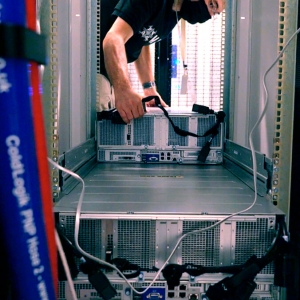 Cyberinfrastructure, information technology systems that provide resources required to advance data and compute-intensive science, faces historical underinvestment and uneven distribution and availability across the nation. EPSCoR jurisdictions include 25 states, the U.S. Virgin Islands, Guam and Puerto Rico.
"This grant will enable researchers from diverse communities to participate in CI workshops that will open the doors for greater research and collaboration opportunities," said co-principal investigator and Jackson State University Chief Information Officer Deborah Dent.
CI workshop
The goals of the workshop are to increase knowledge of, and aid access to, CI capabilities not only across EPSCoR jurisdictions but also under-resourced institutions.
"Many of these institutions find themselves struggling with internal awareness and priority for smart research technology investments. This workshop is designed to also give internal planning efforts a boost," said co-principal investigator and University of Nevada, Reno Cyberinfrastructure Director Scotty Strachan.
The workshop will include training, facilitated discussion, a case-study panel on regional collaboration and group working sessions. An open access report, publication and related outreach activities will be made available to share findings and planning and partnership initiatives. The workshop will be co-located with the NSF EPSCoR National Conference to be held in Portland, Maine, May 22–25, 2022.
—By Maria Dumanlang